Take a look around and you'll find a plethora of spaces that bring people together. From competitive pickleball matches to laidback arcade gaming, KC has something social for you.
Get ready to relive the best parts of your childhood at Up-Down KC, a "barcade" filled with games from the '80s and '90s. With a vast collection of classic and modern pinball machines, arcade cabinets and a selection of craft beers, Up-Down is the perfect spot to unleash your competitive spirit.
Pickleball has taken the region by storm — Overland Park was even recently dubbed the "most pickleball obsessed city in America." At SERV or Chicken N Pickle, you'll find exceptional pickleball facilities for players of all skill levels, whether you're looking for a casual game or a competitive tournament.
Sinkers Lounge takes mini golf to a whole new level with nine indoor holes paired with deliciously crafted cocktails. Putt your way through whimsical landscapes and challenging obstacles, then try your hand at tabletop golf — a unique combination of shuffleboard, mini golf and pool.
Get your read on at Afterword Tavern & Shelves, a quiet corner in the hustle of downtown. Cheers your friends with their unique craft cocktails or take advantage of the cozy atmosphere and curl up with a good book from the shelves that line the walls.
Dive into the past at the historic Screenland Armour Theatre and its accompanying basement bar dedicated to all things '90s. Once a silent theater, Screenland now shows both contemporary and classic films. After the flick, head down the stairs to Rewind Video, where you'll find classic video game systems, movie posters and a collection of rentable VHS tapes.
If beer, bites and board games are your passion, Pawn & Pint is the place for you. With an extensive game library, trivia nights and friendly staff, this is a perfect spot for connecting and competing with companions.
Adventure seekers will love RoKC Climbing Gym, where climbing challenges both beginners and experts. With three locations around the region, stop by on your own or with a group for an exhilarating workout.
If you want to keep yourself busy, you might like...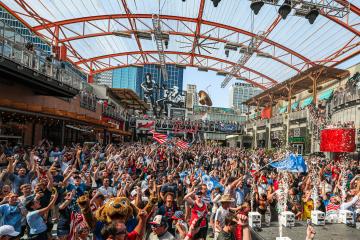 Want to continue exploring KC?