KC's newest stadium is making history in the heartland — and beyond.
Kansas City is described as the "Soccer Capital of America" — and the region makes a compelling case for the title. Vast youth soccer complexes with wall-to-wall matches every weekend. Rousing chants of enthusiastic fans rooting for professional teams. City-wide preparations to host match play during the FIFA World Cup 26™.
But here's what really seals the deal: the excitement about what the city's professional women's soccer team — the Kansas City Current — is building along the banks of the Missouri River.
In the short few years since the KC Current brought the National Women's Soccer League back to Kansas City, the team hasn't wasted any time making its mark with multiple years at a title run, shattering attendance records and opening a new state-of-the-art training facility. So, it wasn't entirely surprising when the team's founders, Angie Long, Chris Long, Brittany Mahomes and Patrick Mahomes, unveiled plans to build the first-ever stadium for professional women's sports — any sport — in the world.
Match-ready for the KC Current's 2024 season, the privately funded, show-stopping stadium in Berkley Riverfront Park features views of both the Missouri River and the downtown skyline.
The mold-breaking doesn't stop on the pitch, either — the design and construction of this groundbreaking venue was brought to fruition by a predominantly women-led project team, with a shared goal of creating world-class athlete and fan experiences.
Each of the 11,500 seats in the stadium's horseshoe configuration feature close-to-the-action views. Stadium amenities are set to be top-notch, with plenty of KC flair. From a food and beverage menu curated by award-winning local chefs, Colby and Megan Garrelts, to easy access that will be further enhanced by the KC Streetcar line extension, the stadium is destined to be a favorite for soccer fans. And when there's no soccer on the schedule, the facility will transform to showcase concerts under the stars, festivals and other community events.
Soccer Capital of America? Kansas City is clearly all in. KC Current season ticket demand for the stadium's inaugural season has already exceeded expectations, making women's soccer one of the hottest tickets in town for years to come.
If you're into soccer, you might also like...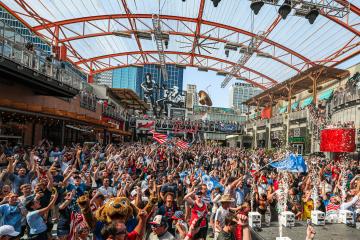 Want to continue exploring KC?