KC beats its own drum. From the legacy of jazz to a new generation of artists, the sounds of KC can be heard from all around.
Indie rock thrives locally, with artists like Hembree and the Greeting Committee making waves in the genre on a national scale. Radkey, a band of punk-rock brothers, continues to see success on the road. Singer-songwriter Kevin Morby's 2022 album "This Is A Photograph" has taken him across the globe and back again. He and his partner Katie Crutchfield, of Waxahatchee and Plains, call Overland Park, Kansas, home.
KC Heartland Playlist Featured
Kevin Morby

Album: More Photographs (A Continuum) (2023)

"In my car, driving in the stars,
Somewhere in the cosmos
Somewhere no one else knows"

Making Movies is a band based in the U.S. with a sound Rolling Stone describes as "an eclectic blend of rumbero percussions, delicate organs and grungy fuzz rock."

Hembree

Album: It's a Dream! (2022)

"Do you wanna know?
What our young hearts really need
Do you wanna know?
I will follow you, I will keep you close to me"

Julia Haile's passionate vocals have thrilled audiences across the U.S. and beyond. She explores her sound in-depth, creating music that soothes and calms with one song and with the next asks you to abandon the madness and dance.

Samantha Fish, Jesse Dayton

Album: Death Wish Blues (2023)

"She's keeping herself in check
But she can feel his breath on her neck
Your kiss is like a death wish
If she could, she would resist
But the story goes just like this"
For concert enthusiasts, there's no shortage of settings to catch a live show. Big-name artists roll through the T-Mobile Center in the heart of downtown. Outside of Chiefs season, GEHA Field at Arrowhead Stadium doubles as the perfect locale for seeing Beyoncé or Taylor Swift with 75,000 of your closest friends.
To do as the locals do, Knuckleheads and RecordBar are must-visit venues, beloved by avid fans of music and good times. Experience music al fresco at a variety of open-air venues like Lemonade Park, Azura Amphitheater, Grinders KC and Starlight Theatre.
Each summer, festival-goers delight in annual events. Hosted by Boulevard Brewing Company, Boulevardia touts headliners like Bleachers, Young the Giant and Jason Isbell — alongside magnificent brews. Grammy-nominated Latin rock band, Making Movies, hosts Ameri'kana — a music and arts festival benefiting Art as Mentorship, a youth music program. Crossroads Music Fest showcases the vastness and intensity of local talent while the national Breakaway festival brings EDM to the Midwest.
KC's rich history of jazz culture is threaded throughout the city. Get educated at the American Jazz Museum in the historic 18th & Vine District, or get dressed up in your swankiest '20s outfit and bask in the tradition at a multitude of clubs like Green Lady Lounge, Black Dolphin, Lonnie's Reno Club or The Phoenix — just to name a few.
If you're into music, you might also like...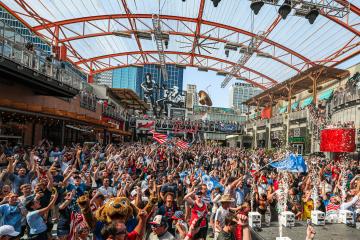 Want to continue to exploring KC?