You can't score if you don't shoot.
A transplant from Trinidad and Tobago, Davyeon landed in KC Heartland on a basketball scholarship at Benedictine College. With the world at his fingertips after graduation, he chose to stay in Kansas City to grow his life and career.
Following, Davyeon kept making the right moves, which later led to the founding of a now globally recognized sports-tech startup, ShotTracker. The sensor-based analytical software tracks real-time basketball statistics and has been adapted into coaching strategies at major universities, helping players around the nation improve their game.
Davyeon Ross | Choosing KC Heartland
Recognized by the KC Tech Council as the 2019 "Tech Connector" of the year, Davyeon is a respected force in the tech community. His partnerships with major brands like IBM, Apple and the NBA to name a few, have helped him to diversify his startup portfolio and continue raising significant capital. Now, sitting on the board of the KC Keystone Innovation District and the Coalition Venture Studio, Davyeon is heavily involved in initiatives that give back to the community.
Why Daveyeon loves KC Heartland
The more I stayed here, the more I fell in love with the people.
Kansas City is uniquely positioned to cultivate opportunities for creativity and innovation. It is truly differentiated both nationally and internationally.
Davyeon's passion projects

Davyeon leads a new initiative that was

featured by Forbes

, Coalition Venture Studio, to help close the venture capital gap to Black entrepreneurs. The coalition has strategic partnerships with VCs, CVCs, corporations, brands, and other organizations to create a robust support system for Black founders.

Davyeon's passion projects

Davyeon also sits on the Board of Directors for the Keystone Innovation District that is driven to connect regional universities, philanthropic leaders, corporations and entrepreneurs in the diverse and populous urban core of Kansas City.  Scale, density, equity and inclusion are their keys to the best and biggest ideas.
If you like Davyeon, you might also like...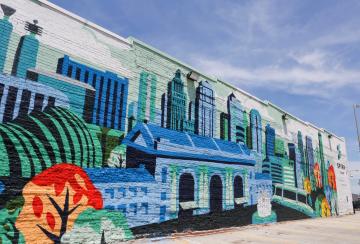 Want to keep exploring KC?