You Gotta Fight For Your Right to Paaaaartay
The Chiefs are back again for the third time in four years! If you're ready to shout your KC pride from the rooftops, KC Heartland has all the tools leading up to Sunday, Feb. 12.
Download these new graphics to amplify the KC love. Not sure what to say? Check out the drafted posts below. 

Rock your virtual meetings and rep Chiefs Kingdom with these exclusive backgrounds.

Search and use "KCHeartland" GIFs and stickers on Instagram, Twitter & Facebook.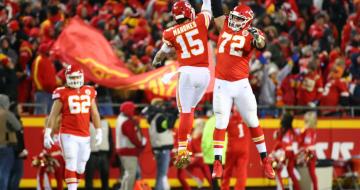 No matter what you're sharing, tag @KCHeartland and use #KCHeartland across your social media channels.
Check out these drafted posts you can easily copy and paste into your social channels. Best paired with your exclusive KC Heartland graphics.
Two states, one heart. ❤️ Nothing brings #KCHeartland together like cheering on the #Chiefs! Let's go! #SBLVII #ChiefsKingdom @KCHeartland
Oh hey, here we are again... 😎❤️ #KCHeartland is headed back to the big game for the third time in four years. #ChiefsKingdom #SBLVII @KCHeartland
Red Kingdom is ready - LET'S GO CHIEFS! #ChiefsKingdom #SBLVII @KCHeartland