There's no denying that Kansas City is a special community — supportive, welcoming and proud of the hidden gem that we call home. So, it's no surprise that Kansas Citians have rallied around the Parade of Hearts, a public art exhibition representative of, and dedicated to, our diverse and eclectic region.
Parade of Hearts was born during the COVID-19 pandemic and intended to help raise funds and awareness for the industries that had suffered the most. Yet this annual installation has achieved an even grander vision in the years since its inception, combining the iconic and beloved KC heart logo with the unique stories, art and design of the Midwest.
The hearts, each measuring about five feet tall, are placed around the Kansas City metro area, interweaving a narrative of hope and inspiration. From healthcare to hometown pride, each tells a different story. Showcasing local artists' abilities, every installation embodies a unique viewpoint and perspective, all with the goal of bolstering our community.
The culmination of the parade is an auction, where every dollar raised is donated and recirculated to specific facets of Kansas City. Those include focused areas of arts and culture, health and wellness, hospitality and tourism, education and minority-owned businesses.
Now entering its third year, the he(art) installations have become an integral component of the community — spotted in parks, next to local businesses and alongside busy streets throughout the region. And while the amount of talent and creativity in Kansas City is remarkable, what's even more inspiring is our ability to band together, as one community, around a common cause. To date, Parade of Hearts has raised more than $2.5 million for local charities.
That's what the Parade of Hearts is truly about — supporting one another through the tough times and the good, giving a voice to worthy causes and elevating everyone that makes Kansas City great.
If arts and culture are your thing, you might also like...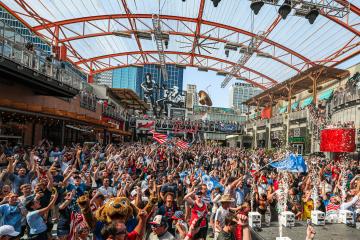 Want to continue exploring KC?