It all started in 1989.
That's when the Boulevard Brewing Company opened the only brewery in Missouri not named Anheuser-Busch, in a warehouse on Kansas City's Southwest Boulevard.
Since then the world of craft beer has changed exponentially, and microbreweries and brewpubs dot every corner of the metro.
Alma Mader Brewing
Craft Beer and Brewing Magazine named its Premiant pilsner one of its Top 10 Beers of 2021.
BKS Artisan Ales
Swiped its name from an abbreviation for the Brookside neighborhood. Its flagship brew, Rockhill & Locust, won Gold in the "English Mild or Bitter" category at the 2022 Great American Beer Festival (GABF) competition.
City Barrel Brewery
Its audaciously named Rad AF took home the Bronze in the "Juicy or Hazy India Pale Ale" category at the 2022 GABF.
River Bluff Brewing
New to the River Market, but already striking gold (or silver rather) in St. Joe. Its dark ale "O Brother!" earned Silver in GABF's "International Dark Lager" category in the brewery's very first year (2019) and again in 2022.
Vine Street Brewing Co.
A thriving Black-owned brewery — the first in Missouri — that opened in Kansas City's Historic 18th & Vine Jazz District in 2023.
Transparent Brewing Company
Only a few years old, this Grandview brewery— which shares a home with farm-to-table restaurant, The Chive — focuses on locally-sourced ingredients.
Friction Beer Co.
Brand new to the Shawnee brewery "hot block,"this new spot offers a music-themed taproom,including a cassette tape mosaic.
Servaes Brewing Co.
This LGBTQ/woman-owned brewery in Shawnee has been around a few years — but since they purposefully shy away from flagship beers, you can always catch a new and off-the-wall sour here.
Cinder Block Brewery
A local fan favorite. Every winter around Super Bowl time, this North Kansas City hotspot brews a batch of Il Padron pilsner — that's Italian for"the Chief."
Martin City Brewing Company
Now entering its second decade, Martin City offers taprooms in both Kansas and Missouri.
KC Bier Co.
Located in Waldo and focused on authenticGerman beers. In 2020, its Hefewizen and Pure Pils picked up a GABF Silver and Bronze, respectively.
Sandhills Brewing
Take flight with this bird-themed brewery.Originated in Hutchinson, Kansas, its nature-inspired Mission taproom offers beers for everyone — even beginners.
Crane Brewing
Located in Raytown near the Rock Island Trail, this brewery is perfectly placed for hikers and bike riders to gather. Tacos from the food truck that often parks here add to the fun.
Casual Animal Brewing Co.
A Crossroads standby that welcomes dogs and dog lovers both inside and on the patio, while serving up a Grizzly Bear Ale that bites in a good way.
If you're into the brewery scene, then you like...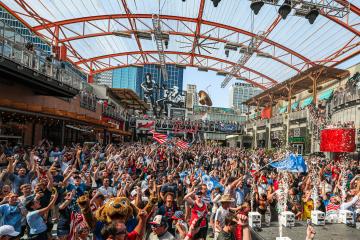 Want to continue exploring KC?